Quotes about COOTIE SHOTS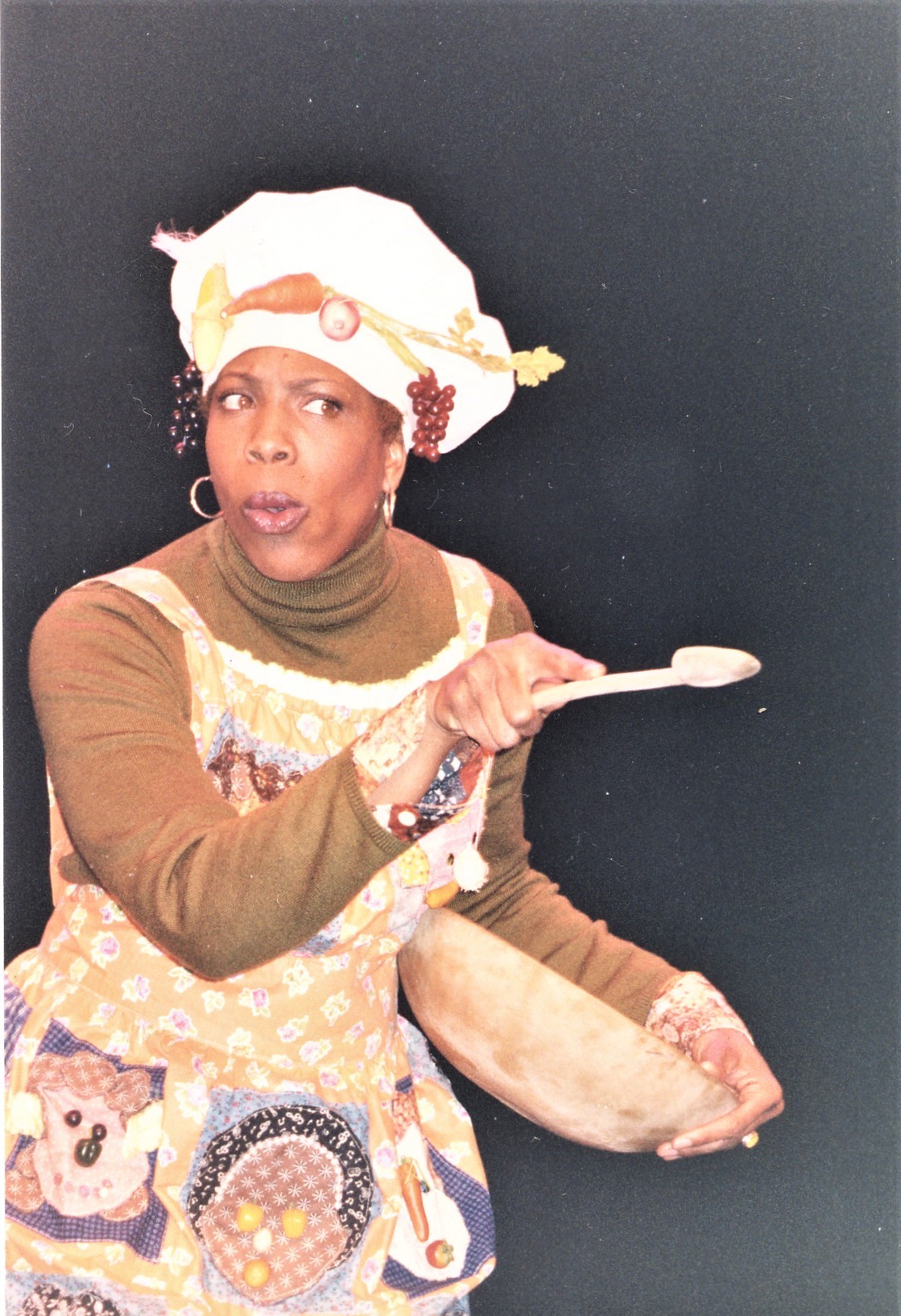 Gracy Brown as "Mother Nature,"                    Westport Country Playhouse
"Having witnessed first hand the power of Cootie Shots with parents, teachers, and children, I applaud this wonderfully entertaining and educational work."
Dana Williams
Southern Poverty Law Center
"The book is especially powerful in demonstrating that one person can make a difference. The selections focus on the courage one sometimes needs to right a wrong. Cootie Shots teaches children life lessons about themselves and the diversity of their classmates in a fun and thought-provoking way."
MultiCultural Review
A FEW HIGHLIGHTS
Barnes and Noble featured Cootie Shots in their 2002 "Close the Book on Hate" campaign.
The School Library Journal, Multicultural Review, Southern Poverty Law Center's Tolerance.org, and the California Teachers Association's California Educator all gave Cootie Shots rave reviews.
Cootie Shots was a 2002 Independent Publisher Book Awards finalist in the Performing Arts category.
New York City's The Drama Book Shop has listed Cootie Shots as a "Best Seller."
Quotes about COOTIE SHOTS from…
"This is a valuable resource for adults working with youngsters to help them acknowledge discrimination and prejudice in their lives and create a more understanding and compassionate world."
The School Library Journal
"Cootie Shots arrived at a wonderful time. The skits fit very closely with classroom discussions. They were a fun and entertaining way to send an important message. They also provide a place for further follow-up in the classroom."
Viki L. Montera, Ed.D., Principal, Santa Monica Alternative School House
"In [Cootie Shots], young people are actively encouraged to think about and question various aspects of identity, difference, and the impact of bias."
Sharon Grady, author,
Drama and Diversity: A Pluralistic Perspective for Educational Drama
"Having witnessed first-hand the power of Cootie Shots with the parents, teachers and children of our ECAL program, I applaud this wonderfully entertaining and educational work."
Judith Iguina, Resource Teacher,
Every Child a Learner (ECAL), Sharp Avenue Elementary
"Cootie Shots is an excellent tool for expanding dialogue around diversity issues with children of all ages. This comprehensive collection playfully and sensitively tackles issues around prejudice and belonging as they relate to race, religion, gender, class, ability, sexual orientation, family structure, and more. All students will feel included and affirmed by the poems, plays and songs of Cootie Shots."
Scott Hirschfeld, National Education Director,
GLSEN (Gay, Lesbian and Straight Education Network)
"This is a must-read for educators, administrators, counselors, parents and everyone interested in a positive approach to dealing with prejudice of all stripes. Cootie Shots offers an engaging collection of writings that is pragmatic, subtle, challenging and affirmative. In or out of the classroom, make sure you get your Cootie Shots!"
Ron Scapp, Director, Graduate Program in Urban and Multicultural Education
at the College of Mount Saint Vincent, Bronx, New York
"Cootie Shots is another step in the long struggle to promote understanding and respect. Attaching this appealing art production to an examination of society's ills is dramatic, provocative, and highly appropriate for children of all ages."
Virginia Uribe, Ph.D., Founder of Project 10,
and Gail Rolf, Project 10 Adviser Los Angeles Unified School District
"The plays were a wonderful way to expose my students to sensitive issues in a relaxed and fun atmosphere. My students laughed, learned and gained a better understanding of the diversity of the world in which they live. I would recommend this experience for all schools that would like to help their students confront and deal with stereotypes."
Miriah Rifkin, teacher, Murray Elementary School
"Cootie Shots is a creative, poignant and important work that illuminates, with great power, the joys of celebrating difference – and the importance of observing the golden rule. The many voices that are part of these selections and illustrations are so very relevant to both children and adults. I would like to see Cootie Shots in schools as a required part of the curriculum."
Christa Santangelo, Ph.D., Clinical Psychologist,
University of California, San Francisco Langley Porter Psychiatric Institute, Department of Child and Adolescent Psychiatry
"Cootie Shots teaches and preaches without being 'teachie' and 'preachie.' It gives children some beautiful lessons about our diversity and sameness before our society teaches them otherwise."
Rev. Robert B. Allman, H.R. Presbyterian Minister, Savannah Georgia Presbytery
"I think that Cootie Shots is an incredibly useful tool for teachers, educators, theater makers, community-based artists, facilitators — anyone working with K-8. This book will spark thinking and conversation, during early development, around important and challenging issues such as race and ethnicity, gender, sexual orientation, physical ability, and the feelings that come along with being 'different'! I applaud Norma and Fringe Benefits for believing that young children CAN handle these topics and deserve to have them presented in a way that is artful, professional and inspiring. Good work!"
Dani Bedau, Director of Youth Arts Programs
National Conference for Community and Justice – NCCJ/LA
"Cootie Shots is an excellent opportunity for young audiences to explore difficult issues they are confronting in their everyday lives. Themes such as name-calling, stereotypes, feeling like an outsider – for whatever reason – are experiences all children share. Cootie Shots provides a fun, thought-provoking and creative forum for children to recognize what they can do to treat others – and be treated – in a more equitable manner."
Julie Flapan, Project Director, A World of Difference® Institute
Los Angeles Project, Anti-Defamation League of B'nai B'rith
"I love this book!"
California State Senator Sheila Kuehl
"I learned that you need to treat people the way you want to be treated, even if they are different than you."
Robert, Grade 6

"The school learned more about loving themselves and respecting each other because, on the yard, the kids aren't fighting."
Hailey, grade 3

"I learned you shouldn't tease. You should try to defend your friends, try to help them get used to the school."
Kyle, grade 5
"I learned that however you look, never, I repeat, NEVER call a person names or judge them by the color of their skin."
Alex, grade 3
"I learned not to put people down because it makes people sad."
Lucas, grade 2
"Stick up for your friend. Even if they're not your friend, they could be."
Jenny, grade 4
"I would like every body to be treated equally, whether they are popular, unpopular, short, tall, different, smart, not getting good grades, believing in things, not believing in things, ugly, pretty, cool, not so cool, glasses, braces, rich, poor or in between."
Ariane, grade 5
"It does not matter who you are on the outside. It matters who you are on the inside."
Siena, grade 3
"Just because someone is disabled doesn't mean they can't understand us."
Dan, grade 5
"My favorite part is when they said sorry because it makes me happy when people say sorry."
Maria, grade 2
"In honor of Dr. Martin Luther King Jr., and other great civil rights leaders, our school assembled to acknowledge the many esteemed people who dared to make a difference. But it was the inspired content of Cootie Shots that lit up the eyes and opened the hearts of parents and children alike, as the magic of our young performers brought to life stories of the beauty of variation, crooned inspired songs of change, blessed us with loving and poignant themes encouraging us all to seek the truth and be kind to one another along the way."
James Ward, Los Angeles
"I think much of the pain that children experience growing up comes from how children act toward each other as they become aware of differences. Cootie Shots helps me open dialogue with my children and normalize their feelings while empowering them to stand up for who they are and celebrate the differences that make us all unique. It is great to see my children advocate for themselves and others in the face of discrimination and prejudice."
Laura Travnitz, Pasadena
"My daughter saw the production of Cootie Shots last year at her elementary school, and she came home a completely different girl. Once she was reticent of people who were different from her but now she truly does treasure what makes people special, whether they have a different religion, color of skin, home situation, etc."
Laura Greenfield, Fairfield
"My youngest daughter saw Cootie Shots: Theatrical Inoculations Against Bigotry and my wife attended at San Ramon the day the theater troupe was there. They both liked it very much and to this day talk about the value of that program especially prior to middle school where so much bullying and name-calling occurs."
Jim Bartee, Novato
"It goes beyond tolerance and stresses inclusion. I may be an exception, but personally I think tolerance should be the last-ditch thing, a bare minimum – I think people should go further."
Jeff Towne, Fullerton
"Programs like Cootie Shots and 'Theatre for Social Justice' promote tolerance and acceptance by bringing issues out for discussion that otherwise might not be addressed."
Sonja Berggren Seaver, Long Beach
"Having witnessed the power of Cootie Shots to open hearts and minds, I am eager to spread the word! I have seen how these interactive plays afford youth an extraordinary opportunity to use their imaginations to develop and rehearse constructive solutions to the myriad of challenging situations they face."
Joanne Woodward
"My theatre company has been asked to do a production for our city's 1 year anniversary of 9/11 which will celebrate diversity and promote peace. Although our company does not specialize in children's theatre, this is a family event, and I can think of nothing more fitting to present than your fabulous play."
Gene Fouche, Maryland Ensemble Theatre
"Cootie Shots is an exhilarating celebration of diversity! Challenging us to go beyond stereotypes and appreciate the similarities and differences in us all. Cootie Shots is a truly life-affirming collection of work."
Olympia Dukakis, Actor
"What a wonderful way for kids to safely and creatively explore issues of diversity. And to see that differences can be a positive thing. I have just one question, 'Where were you when I was growing up?'"
Joan Lipkin, Artistic Director, The DisAbility Project, St. Louis, Missouri
"Entertaining, intelligent, and essential for contemporary living, Cootie Shots sets children on a fun-filled journey to discover values and identities for the 21st century. I'm eager to share this collection with my own five year-old."
David Henry Hwang, Playwright
"Sweetly told stories about race, gender, death, family, and God — the big themes! — from writers on the frontlines of these and other social issues. These fun, hip, fresh plays and poems should awaken the natural desire in all young people to step into the shoes and think with the minds of others."
Jose Rivera, Playwright
"For me, this book represents the essence of artistic spirit. It could only have come from these artists, in this time. It is a daring adventure and it exists purely because of the unique, obsessed, driving spirits of Bowles and Rosenthal, doing their very best, relentlessly, to make the world a better place. It is an American art trophy."
Linda Frye Burnham, Art in the Public Interest