Theatre for Social Justice Residencies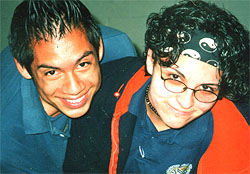 Martin & Carrie, TSJ Residency Writer/Performers
Since 2002, Fringe Benefits has custom-designed a variety of Theatre for Social Justice Residencies for diverse Los Angeles middle and high schools.  In the course of these year-long programs of weekly workshops, our Teaching Artists introduce participants to civil rights issues and movements and artistic strategies for promoting social justice. Through story-sharing, research, discussion, games, improvisation, writing and collaborative dramaturgy, the students create thought-provoking activist plays and/or videos addressing issues they care about. They then work together to rehearse, produce and present their shows to school, community and online audiences.
Please see our "Mission & History" page if you'd like to read more about some of the diverse TSJ Residencies we've offered.
Contact us if you would like more information about bringing a Theatre for Social Justice Residency to your school.